Who is Nyco Rudolph?
I'm an illustrator in Winnipeg, Manitoba. I love film noir, Canadian history, music, my wife Janelle, our son Jude and our dog Morgan.
I got my start by designing show posters, album covers and merchandise for bands in the local Winnipeg music scene. My portfolio of commission work was growing bigger and bigger, but my mind was overflowing with my own ideas that I wanted to bring to life. I took the leap and committed to my art full-time, with tons of new prints, merchandise and I've got a couple of graphic novels and comics in the works!
I've always created for my own satisfaction and enjoyment, but what really keeps me going is seeing people dig my work. Whether they're walking past my table at a convention and they burst out laughing, or they're liking and sharing my art on my Facebook and Instagram, it means so much as an artist to have people react and respond to what I've created.
When I'm not at my drawing desk, I'm on the road bringing my special flavour of art to the Canadian masses: an eclectic mix of propaganda style, anthropomorphic animals, old school 3D and film noir. My wife and I make the most of our beautiful (but short!) Manitoba summers with camping trips, fishing and bonfires. During the winter, we like to hibernate and recharge our creative batteries with movie and Netflix binges, good food, and quality time with family and friends.
If this is your first taste of The World of Nyco Rudolph, welcome to my slice of the internet. I hope you enjoy your visit!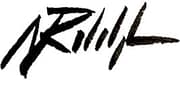 Profiles & Interviews
Mentions
Events
Elsewhere on the Web